A man on a 'revolutionary mission'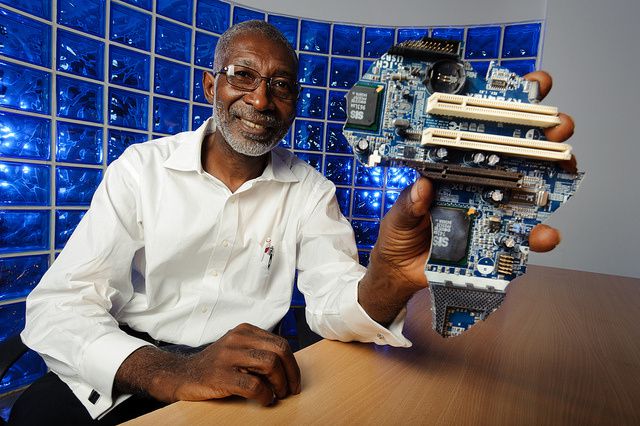 © Nyani Quarmyne / Internet Society
Dr. Nii Narku Quaynor, dubbed 'the father or the Internet in Africa', for many reasons.
Not only did he establish some of the first connections in Ghana and West Africa, he continues to play a central role in advocating for the Internet's role in driving economic development throughout the continent and bridging the north-south economic divide.
"When I first connected people to the Internet, they'd see something on CNN and shiver," says Quaynor. "Some people would say that was like magic.
As an active member and recipient of the Johnathan B. Postel Award, he is also an intricate part of the Internet Society's 20th Anniversary and a speaker at this year's Global INET, an international forum dedicated to promoting the open development, evolution, and use of the Internet for the benefit of all people throughout the world.
While in his office in Accra, East Legon, Dr. Quaynor fiddles with a smartphone, with his tablet sitting on the table in front of him. At 62, Quaynor is not only fluent in the latest technology, but also remembers a time when single computers filled entire rooms.
In 1969, at the age of 20, Quaynor who was a strong mathematics and physics student, set off from his hometown of Accra, Ghana's capital, to the United States to study computer science. His only contact with a computer had been with a simple handheld calculator he had used in math class. But when he arrived at Dartmouth College in New Hampshire he learned how to operate a system that would demonstrate the enormous capacity of computers to connect people.
In 1979, Quaynor, the first Ghanaian to receive a PhD in computer science, returned to his homeland to set up the nation's first computer science department at the University of Cape Coast.
"I had this feeling that I had to do something to ensure that the knowledge was available within Ghana," says Quaynor. "I was okay in the U.S. but I felt I had to come back and fulfill some responsibilities here and ensure that Ghanaians start to learn about computer science (…) I felt strongly that if I didn't do it, Ghana would lose something."
Over a decade later, Quaynor would become an Internet pioneer in Ghana by establishing it's first continuous connection in 1992, later aiding Gambia, Togo, and Nigeria in setting up their connections.
It was during this period that he came to realize the enormous potential of the Internet in Africa. For Quaynor, with increased access, the Internet could be used to "liberate" Africa, through fostering economic growth and acting as a way for Africans to assert their presence and cultural identity.
"We have to be involved," Quaynor said. "If you are not involved you are just a consumer of foreign things. But you want these things to be localized to fit your environment."
Currently Africa's Internet penetration is 11.4 percent, the lowest penetration of any region in the world, according to Internet World Stats. But in the past year, the number of Internet users has grown by 2,527.4 percent, in part due to the fact that people can now access the Internet via mobile phones. Quaynor, like many other experts in the field, argues that software developers in Africa will have focus on developing apps for mobile phones primarily because most Africans use mobile phones to access the Internet and there are currently 500 million mobile phone subscribers in Africa according to the Mobile Africa Report 2011.
But Quaynor argues the Internet could also become a "colonizing force" if Africans do not develop their own capacity, through creating content and applications and allowing an environment for local Internet Service Providers (ISPs) to grow and compete with the larger telecommunications companies that are major industry players.
Quaynor is hopeful, that with the right policies and entrepreneurship and drive of local software developers Ghana and Africa as a whole, can become an equal player in the development of the Internet.
"I believe the global community is looking for you," says Quaynor. "They are saying where are you? What is your added value? Because globalization means locals coming together, (…) You have a global network, so you must bring your local alongside my local and it becomes global. People sometimes miss that."
While Quaynor recognizes the many challenges Africa faces with regard to increasing Internet access and connectivity, he thinks the possibilities the Internet offers the continent are too great to ignore.
"Let's democratize it and make sure everyone can get involved," Quaynor said. "It's a revolutionary mission."
see the original on : http://internetsociety.org/man-%E2%80%98revolutionary-mission%E2%80%99